Vision of DXoT - Digital Transformation of TOYO
Vision of DXoT - Digital Transformation of TOYO
TOYO's DX sets out its vision of "a company capable of producing technological innovations and putting them into mass production by constantly pursuing innovations with a resilient organization and culture that can respond flexibly to any change" and aims to increase productivity by six times (compared to fiscal 2019) by 2024.
Vision of DXoT – Digital Transformation of TOYO
Pillars of DXoT Strategy
Three pillars of DXoT Strategies to achieve six times productivity are as follows.
Achieving CC Driven Engineering (CC: Commissioning-Construction): Reconstructing EPC operations (realizing Engineering and Procurement that maximizes productivity of Commissioning and Construction) and TOYO will strive to enable customer to start plant operation on time.
Implementation of Proactive Corporate Management: By realizing visualization of information in a timely manner and increasing the accuracy of forecasting downside risks, TOYO aim to make management decisions forward-looking.
Sustainable growth through Data Leverage: Based on the improvement of information versatility through standardization of internal data codes, TOYO will work to establish a system to utilize data as assets.
Roadmap to "Increasing Productivity by Six Times"
Nineteen DXoT tasks are being carried out to achieve five targets.
CWP

Construction Work Package

IWP

Installation Work Package

FKMS

Feedback Knowledge Management System

AWP

Advanced Work Packaging
TOYO's Vision
Under the Digital Twin conception which enables to manage plant construction site (as real world) in the digital world, TOYO will make the most of our high-value-added data through Project Twin(*) and Corporate Twin(*) to stabilize project management, strengthen the revenue base, and control the risks of fluctuations in business performance.
*1 Project Twin: Real-time monitoring of on-going project information in each country
*2 Corporate Twin: From a corporate perspective, predict risks and connects it to rapid decision-making and action
1. CC Driven Engineering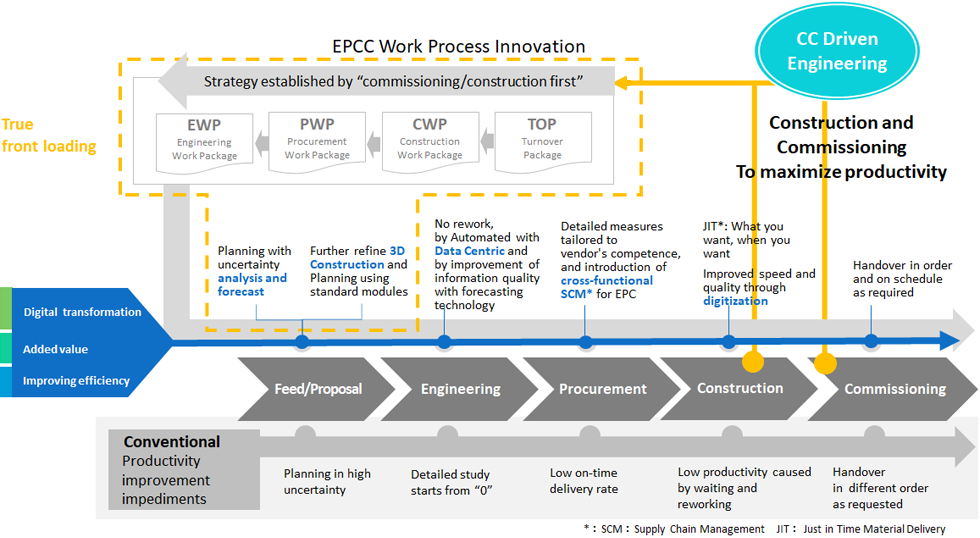 In the conventional business process, it is unavoidable to plan FEED (*)/Proposal phase with high uncertainty, which may lead to rework occurred in Engineering, Procurement, Construction, and Commissioning phases of the project.
The concept of CC Driven Engineering is the innovation of the EPC execution process by applying AWP (*). At FEED/Proposal stage, the EPC strategy is formulated with a back-casting philosophy and incorporated into the action plan as a true front loading of Commissioning and Construction first.
With a combination of 3D Model implementation that realizes both labor-saving and refinement with planning and standard modules that incorporate uncertainty analysis and forecasting, it enables to utilize engineering deliverables at proposal stage after awarded.
Furthermore, TOYO aim to optimize overall workload by eliminating waiting and rework at the later stage, and to achieve competitiveness through the comprehensive strengths of quality, cost, and Construction period.
*1 FEED:Front End Engineering Design
*2 AWP:Advanced Work Packaging
Achievements of CC Driven Engineering (as of February 2021)
All of these results are as of February 2021.
RFID:Radio Frequency Identifier. This technology transfers information from RF tags embedded with ID information by wireless communication over a short distance (from a few centimeters to a few meters depending on the frequency band) using electromagnetic fields, radio waves, etc.
2. Implementation of Proactive Corporate Management
In the execution of Proactive Corporate Management, TOYO aim to make accurate and prompt management decisions based on highly accurate data obtained through a management method by CC Driven Engineering.
The two tasks of "Smart Sales" and "Proposal DX" are engaged in enhancing marketing capabilities and proposals. "Corporate Twin" and "Digital First" tasks are working to realize human resources development policies according to each employee's aptitude.
Through visualizing information related to human resources and competitiveness, TOYO aim to achieve positive spiral management by investing in sustainable technology and business development, and by ensuring the results of these investments.
3. Sustainable growth through Data Leverage
Data Leverage is an activity to improve the accuracy and reproducibility of the plan by implementing PDCA cycle for improvements so that the data can be used thoroughly. TOYO is working to realize a method to accelerate the resolution of issues through data collection and analysis.
At the initial stage of DX, due to the insufficient data governance, it was hard to access to past project data and utilize those data easily. TOYO has begun to construct Digital Platform as a data base to overcome these problems. TOYO is striving for finding solutions for a lot of important issues through working on defining the required data after carefully examining useful fields for future activities and incorporating it into the workflow of collecting data without increasing the workload at site.